AUTHOR: Sylvain Estadieu
<spoiler-alert>
One point … one bloody little point!
</spoiler-alert>
After a couple of years of being organized in Stockholm, the Swedish Open did the sensible thing and moved back to lovely Gothenburg. This edition was once again arranged by Idriz Zogaj with memory sport veteran Daniel Andersson at the helm of the newest semi-automatic digital recall page humorously named "Total Recall".

The competition room was just the right size, not too large, not too small, just "lagom", as the locals like to say. Following the current rankings, the competitors chose the table of their liking. Marwin took a corner, facing the wall, Emma chose the opposite corner possibly trying to make use of the separation in space to avoid having her fast-generated mental images being interfered with by Marwin's fast-generated mental images … yes, that's most likely why. Martin and I took tables facing windows, Selim a table near Marwin's and David, having mentioned his magician's and card dexterity skills, got placed in the middle of the room, not too far from the arbiter's table, you never know!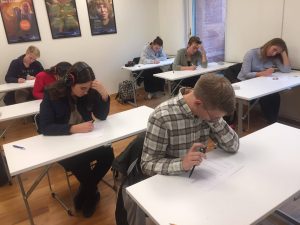 Saturday started off with the usual 15-minute Names & Faces event. Five of us six competitors went through various amounts of the eight (!) pages presented to us whilst Selim, our Turkish competitor was having a sleep-in and decided to only focus on a subset of events. Emma Andersson took an early lead with a very solid 86 names, before a group of three all between 65 and 71.
Top 3 Standings after Names
Emma 410
Sylvain 338 (-72)
Marwin 333 (-77)
In parallel to the Swedish Championships and the Swedish Open, seven students from Lund were given the possibility to try out some events with a slightly more forgiving marking scheme. I do not have the entire detail of their results, but some of them showed great things in Words, Names and Dates (21 of them just minutes after learning the rules!!) after just a couple of weeks' training. Hopefully they will be back next year.
Time then for 30-minute Binary event, also featuring a very extravagant number of pages (10 !). This was the first occasion for us to try out Daniel's recall page. Magic Marwin, despite being out of training for a while, got a comfortable win in this one, closing in on 3000 digits. Martin Nilsson suffered a cruel locus-hopping incident and saw his expected 2000+ digits melt to just 150. Not a mistake he'll make again.
Top 3 Standings after Binaries
Marwin 966
Sylvain 897 (-69)
Emma 800 (-166)
A quick lunch was followed in quick succession by Speed Numbers #1, Random Images and Speed Numbers #2 and two more wins for Emma. She was going through the Images sheets as if they were featuring just about 2 bits of information each. 324 digits and 280 images, very solid!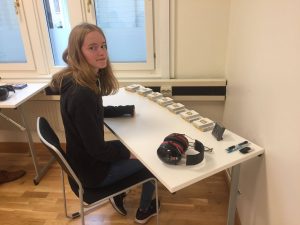 Top 3 Standings after Speed Numbers
Sylvain 1480
Marwin 1478 (-2)
Emma 1392 (-88)
Top 3 Standings after Images
Emma 2283
Sylvain 2136 (-147)
Marwin 2072 (-211)
30-minute Cards was the last event of the day. One of the discussion topics had been that the bottleneck for the long events was starting to become the recall time. With that in mind, we embarked on our respective journeys towards 9 (Marwin), 8 (Sylvain), 4 (Emma and Martin) and 3 (Selim) decks. David unfortunately did not get any 100% fully memorized pack this time around, but has announced that his preparation for 2018 has already started.
Top 3 Standings after Long Cards
Sylvain 2617
Marwin 2606 (-11)
Emma 2520 (-97)
Another day, another handful of disciplines. Starting with 15-minute Words where a 200-word effort from Marwin awarded him one mar-win … Emma and I not THAT far behind with 156 and 177 words. The French version of the event interestingly featured two very similar words one after the other: "béton" and "baton". Memorable enough.
Top 3 Standings after Words
Marwin 3247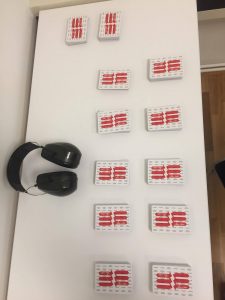 Sylvain 3185 (-62)
Emma 3020 (-227)
Long Numbers came next and with it the best performance of the competition. Emma outdid herself and posted a very strong 1500 digits in 30 minutes, placing her 6th all-time in this event. Marwin and the local Frenchman both managed over 1000 digits there.
Top 3 Standings after Long Numbers
Marwin 4023
Emma 3876 (-147)
Sylvain 3837 (-186)
The afternoon session got somewhat disturbed by a couple of intrusions in the competition room. First by a local TV crew wanting to get a feel for the event (Idriz played a Spoken Numbers file and asked us to pretend to focus. The TV crew then asked if we remembered any of it and got disappointed upon hearing that we all actively tried to NOT listen to the digits) and then by a couple of flies that after much agitation eventually found their way out (one through the window, one through the door).
Fictional Dates was next, with double world champion Jonas Von Essen responsible for coming up with the historical events. We did get our money's worth there! One needed to focus in order to not get distracted by the various "Donald Trump forgotten at the kindergarten" or "Wardrobe leads to Gothenburg". I was lucky enough to take the win on this event (my first event win ever!) by the smallest of margins over Emma, with Marwin once again completing the podium.
Top 3 Standings after Dates
Marwin 4679
Emma 4596 (-83)
Sylvain 4565 (-114)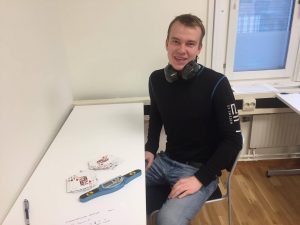 Three Spoken Numbers attempts still left the top three separated by just over 260 points with the risky Speed Cards event remaining. 72 digits was enough for the Marwinator to win yet another one, myself clocking in at 60 and Martin taking third with 26.
Top 3 Standings after Spoken Numbers
Marwin 5080
Sylvain 4931 (-149)
Emma 4818 (-262)
The first Speed Cards attempt allowed me to become the first French person to officially get under one minute in a competition, whilst Ma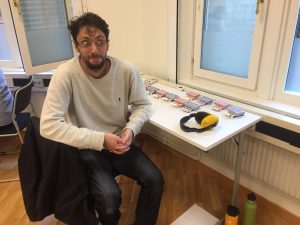 rwin and Emma had issues with their decks. I was also thereby taking the lead from Marwin for the first time that day. The second attempt was more successful for Mr Wallonius, who did a safe deck in a hair under one hundred seconds (1 minute, 39 seconds and 78 one-hundredth of a second). Martin Nilsson and Selim Aydin also managed all their 52 cards in respectively 2:29 and 1:32 but Emma and David were not so lucky this time around.
Even a lifetime's second event win didn't allow this Frenchman to take home the gold in the Open championships as the visitor from Stockholm, fourth on the all-time overall rankings, managed to reclaim the top spot in the Open by … one point … one bloody little point ! The aforementioned hair proved to be crucial there.
Top 3 Standings after Speed Cards, aka the final podium

Marwin 5378

Sylvain 5377 (-1)

Emma 4908 (-470)
Marwin won both the Swedish Open and Swedish Championships, both for the third time in a row, despite clearly not managing to train as much as previous years. Emma took the silver and Martin the bronze in the Swedish division. David got the "Best First-Timer" trophy, Selim a pair of Turkish records and yours truly, nine fresh French records and a headache.

Results available at http://iam-stats.com/competition.php?id=swo2017