AUTHOR: Boris Konrad
Two World Records in three events on Day 1!
The World Memory Championships in Jakarta, Indonesia has started. The first competition day concluded in the late afternoon local time on Friday. And what a first day it was! Thanks to the amazing work of a strong, well-trained and highly motivated arbiter team led by Andy Fong the provisional results are published live as they are scored on iam-stats.com.
In two out of the first three events the results show: World Record! Yanjaa Wintersoul even exceeded the strong expectations in her talent for remembering names and faces and not only won the event by a margin, but set a new World Record of 212 international names memorized to the matching faces in just 15 minutes.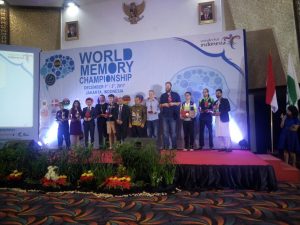 In the afternoon Alex Mullen proved why he is the current World Champion. In just one hour time he memorized 3238 random digits setting a new World Record. Mongolian shooting star Munkhshur Narmandakh also memorized more digits than the previous record and scored 3066 digits. In the morning she already had won the first event, 30-minute binary numbers with an impressive score of 5730 binaries.
But those are not all the records to be noted: Mongolian junior competitor Lkhagvadulam Enkhtuya memorized 4665 binaries in the Junior division (13 to 17 years), a World Record, and Dhruv Manoj correctly recalled 96 names to the matching faces, scoring an overall 11th place in this event and a new World Record for Kids (up to 12 years).
All scores are marked as provisional and World Records will be double checked and confirmed soon.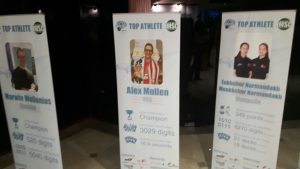 After three events a look at the overall standings is naturally very preliminary, and the standings at the top are very close with Alex Mullen being just a few points ahead of Munkshur and Enkhshur Narmandakh, who came out of their supposedly worst event (names and faces) with little harm. Yanjaa Wintersoul follows right behind on rank 4, completing the super strong Mongolian team led by the strongest female competitors in memory sports history.
The standings might be more worrying for some assumed favorites who need to catch up a lot on day two if they still want to be part of the medals race. Chinese top talent Zou Lujian is already over 1000 points behind the lead and Germany's Simon and Johannes sitting in ranks 7 and 8 certainly cannot afford to lose another point either.
The overall level of the competition is living up to the expectations and it will be exciting to see who will lose their nerve or if someone can go through all ten events with consistently high scores.  Competitors are resting now – the pace will shift Saturday morning when after the rather long events of day 1, the second day will begin with the new, fast-paced error-prone IAM Images event, where every second of the five-minute memorization time will count and in which just a slightly too high pace might ruin some athletes' scores and hopes.
You can watch them on the live stream and try to read faces while waiting for the first scores, which will be available shortly after the athletes have handed in their recall sheets.